We enjoyed a fun night of chocolate chop cookies and milk and had a whopping 16 sister there! There were many different varieties and add ins as well as some interesting tricks of the trade. Like for a soft chewy cookie, add sour cream and for puffy yet crisp cookies, dissolve the baking soda in hot water before adding it to the mix.
Best Chocolate Chip Cookie
(submitted by Lori B.)
"Crisp edges, chewy middles."
Ingredients:
2 eggs
2 teaspoons vanilla extract
2 cups semisweet chocolate chips
1 cup chopped walnuts
Directions:
1.
Preheat oven to 350 degrees F (175 degrees C).
2.
Cream together the butter, white sugar, and brown sugar until smooth. Beat in the eggs one at a time, then stir in the vanilla.
Dissolve baking soda in hot water. Add to batter along with salt. Stir in flour, chocolate chips, and nuts. Drop by large spoonfuls onto ungreased pans.
3.
Bake for about 10 minutes in the preheated oven, or until edges are nicely browned.
Peanut Butter Cookies with
Milk Chocolate Chunks
(Submitted by Ellen P., taken from bakeorbreak.com)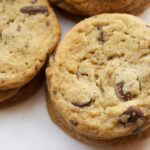 1 & 3/4 cups all-purpose flour
2 teaspoons baking soda
1 teaspoon salt
1 cup unsalted butter, softened, cut into 1-inch pieces
1 cup granulated sugar
1 cup firmly packed dark brown sugar
2 large eggs
1 teaspoon vanilla extract
1 cup creamy peanut butter
6 ounces good milk chocolate, coarsely chopped
granulated sugar or sanding sugar, for sprinkling
Sift together flour, baking soda, and salt. Set aside.
Using an electric mixer, beat butter, granulated sugar, and brown sugar until fluffy. Add eggs, one at a time, beating well after each addition. Add vanilla and peanut butter. Beat until combined.
Add half of flour mixture. Mix for 15 seconds. Add remaining flour mixture and mix just until combined. Fold in chocolate. Cover bowl and refrigerate for at least 3 hours.
Preheat oven to 375°. Line baking sheets with parchment paper or silicone liners.
Drop dough by rounded tablespoonfuls onto baking sheets, leaving about 2 inches between cookies. Using the palm of your hand, gently press each cookie down so that it forms a tall disk shape. Be sure not to press too hard or press cookies too flat.
Sprinkle tops of cookies with granulated sugar or sanding sugar. Bake 10-12 minutes, until tops of cookies just begin to brown.
Cool cookies on pan on wire rack for 5 minutes. Transfer cookies to rack to cool completely. Store in an airtight container for up to 3 days.
Outrageous Chocolate Chip Cookies
(Submitted by Daniel D. from AllRecipies.com)
Description
18 Servings, Prep Time: 15 Minutes, Cook Time: 10 Minutes
A great combination of chocolate chips, oatmeal, and peanut butter. She says to add Recees peanut butter chips for extra yumminess!
Ingredients
1/2 cup butter
1/2 cup white sugar
1/3 cup packed brown sugar
1/2 cup peanut butter
1/2 teaspoon vanilla extract
1 egg
1 cup all-purpose flour
1 teaspoon baking soda
1/4 teaspoon salt
1/2 cup rolled oats
1 cup semisweet chocolate chips
Directions
Preheat oven to 350 degrees F (175 degrees C).
In a medium bowl, cream together the butter, white sugar and brown sugar until smooth. Stir in the peanut butter, vanilla and egg until well blended. Combine the flour, baking soda and salt; stir into the batter just until moistened. Mix in the oats and chocolate chips until evenly distributed. Drop by tablespoonfuls on to lightly greased cookie sheets.
Bake for 10 to 12 minutes in the preheated oven, until the edges start to brown. Cool on cookie sheets for about 5 minutes before transferring to wire racks to cool completely.